be part of the

#1



Fitness Franchise in singapore.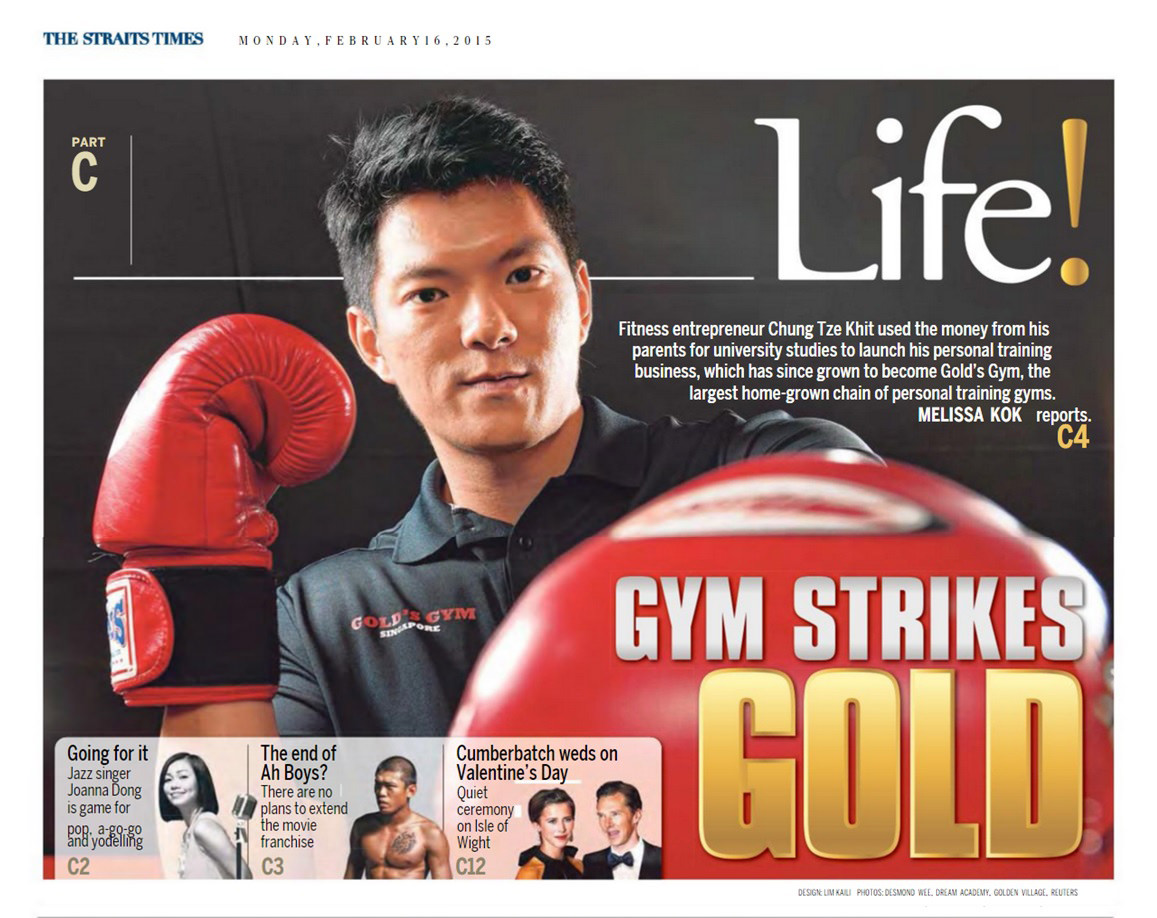 Managing Director Khit on Straits Times Life!, talking about the

success of the franchise business of Gold's Gym.


Gold's Gym franchise being featured on Channel News Asia & Tze Khit talking about business failures/successes


*** WANTED: New Gym Owners ***
If your dream is to start your own gym but you are holding back because:
Lack of the know-how and guidance in the highly competitive cut-throat industry (Fitness Industry)
Lack of experience in running a business
Don't know how to pull in new clients/how to convince them to sign up
Not sure if this will be a good investment for your time and money
Do not know which location is viable to start a gym etc.
The rules, regulations & registrations involved
Then this is an opportunity you might be looking for…
After serving THOUSANDS of Clients, Gold's Gym (The #1 Fitness Franchise Business in Singapore) has Formulated & CALIBRATED a system to run a profitable and sustainable GYM.
… And we are now looking for ONLY 4 more potential Gym Owner to scale our operations.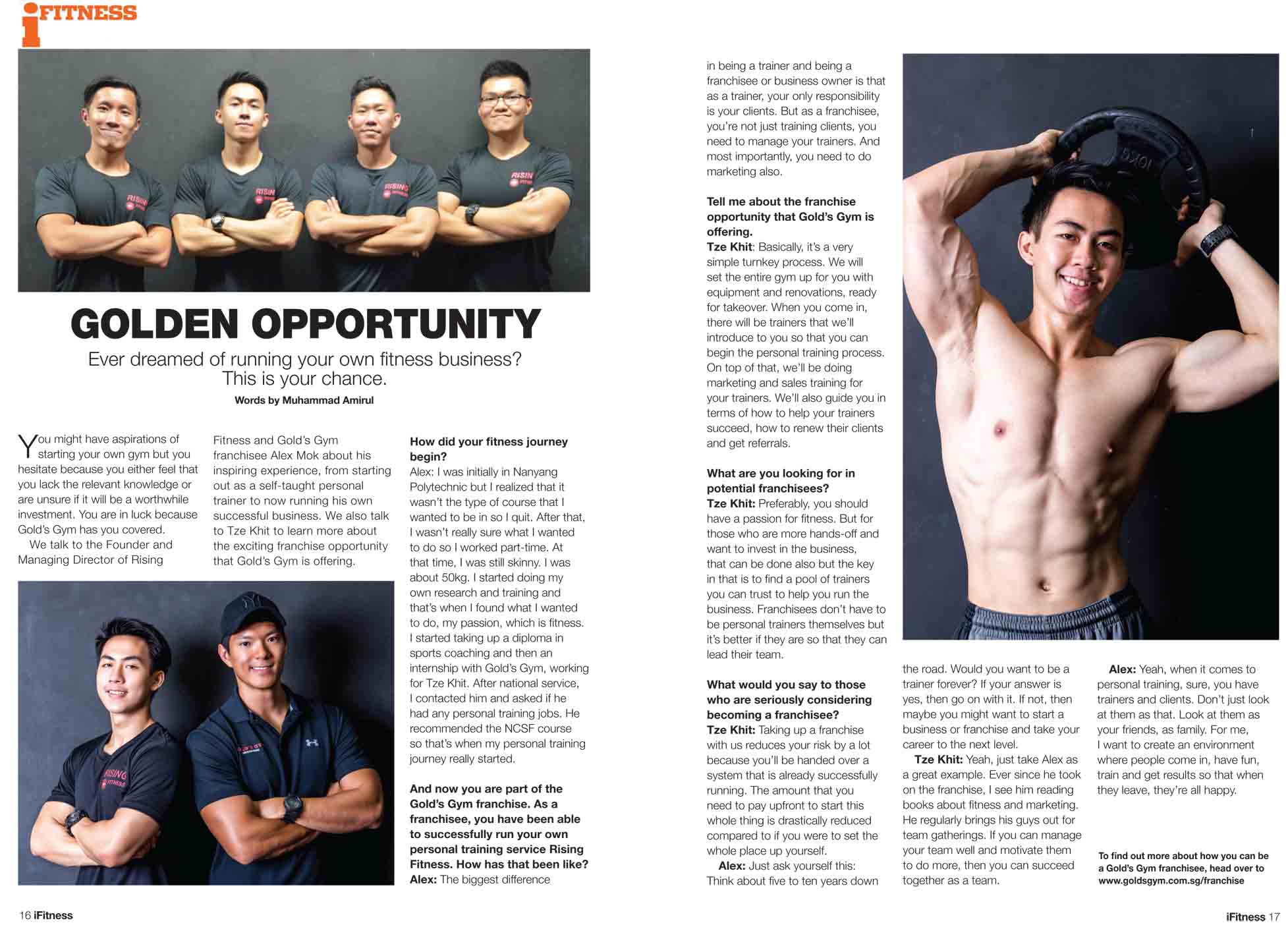 Success Story: Gold's Gym Franchisee Alex (at River Valley) featured on renowned local fitness magazine (right click -> View Image to view enlarged image)
#### What's In It For You ####
You will get to learn how to operate a PROFITABLE gym without paying franchise or recurring royalty fees after you are successful. (Yes… Without…)
You will get to start a GYM without worrying about the renovation and aspect of setting up the business because all this will be handled by our team of professionals. In short, we set the gym up for you, provide you with personal trainers and clients. You only need to follow the system, manage your trainers and start making money.
Low cash upfront – start a gym from as little as $50k.
You will get mentorship from the Owner himself on the INs & OUTs of the business which DRASTICALLY reduce the risk of you failing. (FYI - 9 out of 10 businesses fail within their first 5 years. If you are learning directly from the owner, do you think your chance of succeeding will be GREATLY increased?)
You will be part of a cruising ship which is on its way to DOMINATE the Fitness industry in the near future. (Over 15 years of fitness industry experience)
You will be get a glimpse of how a TURN-KEY business works with processes like branding, marketing, client acquisition, accounting, recruitment, legal and many more other aspects ALL FIGURED out for you.
However, as good as it may seems… we are not looking for everybody...
In fact, not many people can qualify…
--- We are definitely NOT looking for people ---
1) who want to just pump in money, do nothing and watch money grow
2) who are not teachable and not ready to learn
3) who are only willing/comfortable to put in a part-time commitment
---This will ONLY be suitable for people who wants---
1) Hands on business… (Be involved in the day to day operations for the startup phase of the business)
2) The HEART and PASSION to serve clients
3) The LOVE and PATIENCE to guide clients to attain their fitness goals
4) Good communication skills & PR skills
Our numbers are growing and currently with more than 10 successful outlets (raking in healthy revenue EACH), we would like to invite 4 other qualified individuals to come on board and expand this business together as a team.
If you are reading all the way to this point, this post might interest you...
If so, you might ask, what should I do next if I'm keen?
#### Here's What To Do Next ####
1. We do not need you to go through the trouble of sending your resume. Instead, fill up the form at the bottom of this page
2. We will contact to see if you are the person we are looking for… (We respect your time and do not want to waste it if you do not qualify)
3. If you do qualify, we will invite you to attend a Franchise Discovery Day.
P.S If you are planning to just fill up the form without reading EVERY SINGLE word in this post, we urge you to take a closer look at what's written.
P.P.S If you just scrolled all the way down, this message might not be written for you. We would appreciate if you could 'share' this post for us or 'tag' them if you know of someone suitable.
P.P.P.S This page will be taken down without any prior notice after we have managed to find suitable partners.
Franchise Discovery Day:
Coming Tuesday, 7pm
Gold's Gym @ Gold Wellness
(11 Slim Barracks Rise, NTU Alumni Club, Level 4, Singapore 138664)
Please call/SMS/Whatsapp to +65 8153 7888 for other inquiries.
Book a slot for discovery day:
Khit on various media platforms talking about the success of Gold's Gym franchise: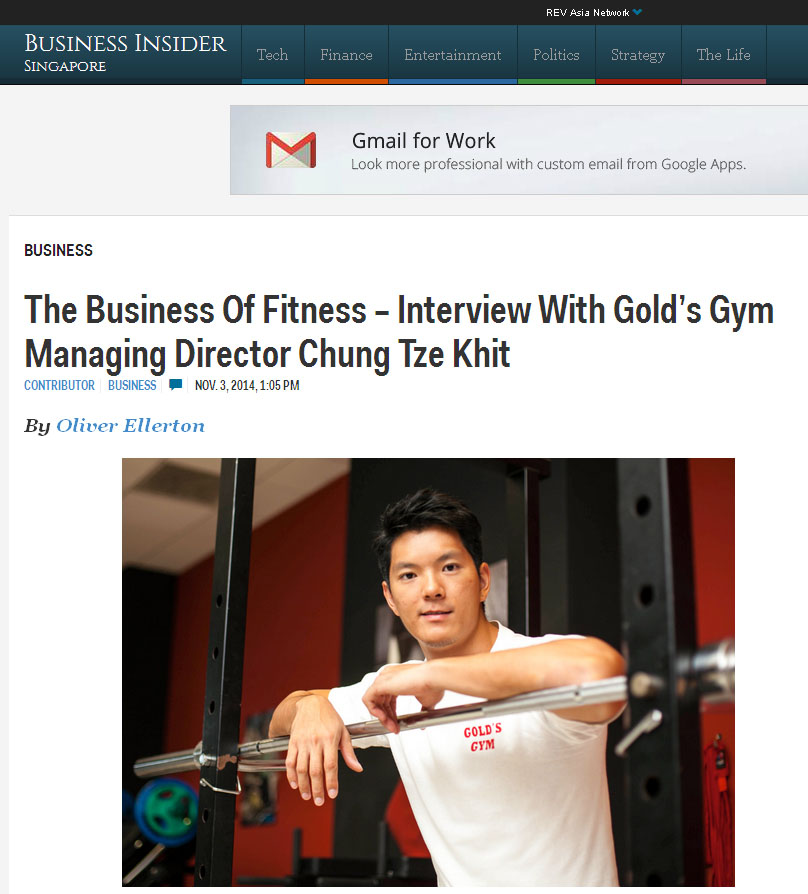 Business Insider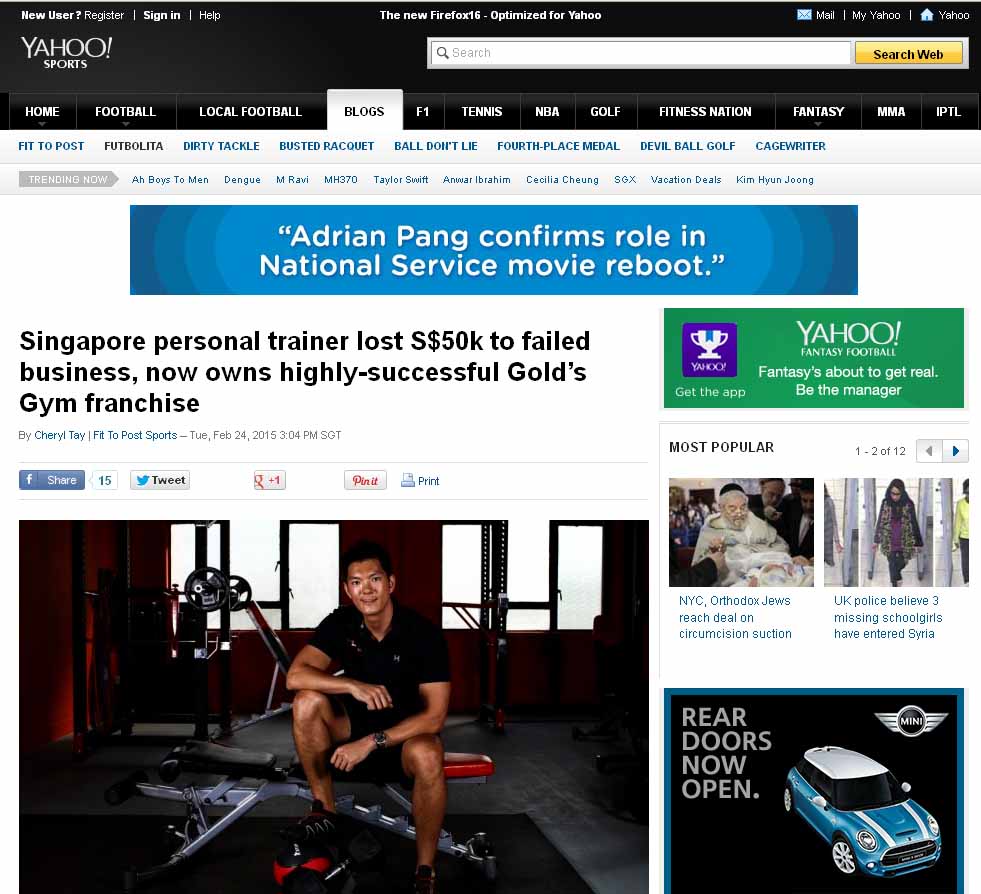 Yahoo! Sports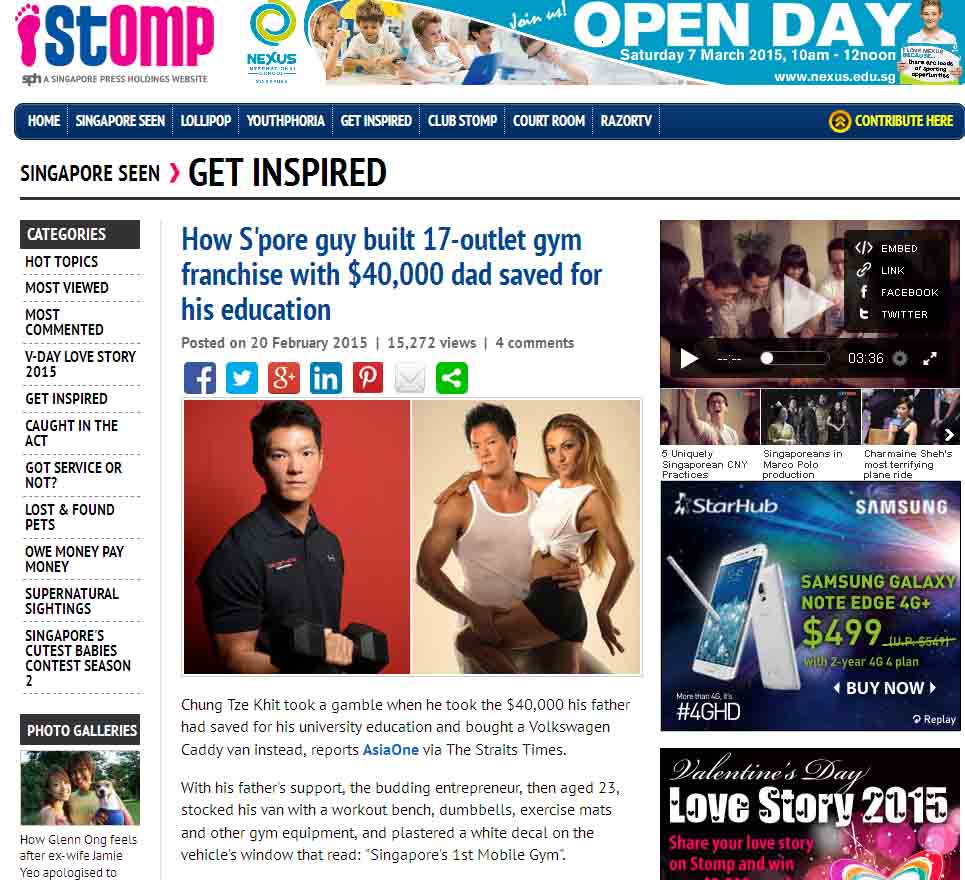 Stomp