+65 31105888
Tired of not getting Results?
Get a
Gold's Gym

Personal Trainer.
WARNING:

Do not try another diet program until you get this FREE Ebook!
As a personal trainer, I realized that most people in the gym fail to lose weight mainly because of poor dietary habits that are difficult to change.
By following
The Accelerated Diet Plan
, you will be able to formulate an effective and sustainable weight loss eating regime that promises results.
Proven to work by countless individuals
Totally safe and effective at the same time
No unrealistic plans that makes you give up after 3 days

Obtain your Free Ebook by submitting your Name and Email Address now!


What Our personal trainers can do for YOU:
Melt fats like butter and see your waistline shrink away
Transform your body in as little as 3 months
Boost your confidence and get compliments daily!
Feel fitter and live better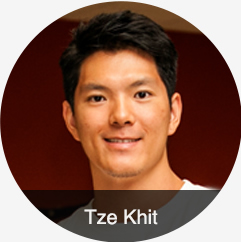 HOW Gold's Gym Promises RESULTS:



1. Having the Best Personal Trainers




At Gold's Gym Singapore, all of our personal trainers understand that it is their responsibility to get their clients results. We take great pride in what we do and constantly upgrade ourselves in order to to provide the best for our clients.







2. Individualized Programs

The human body is unique. What works for John may not work for Peter. Therefore, at Gold's Gym Singapore, we customize each and every program to suit your body and your needs.

Other than just an exercise program, our personal trainers will write you an easy to follow diet plan and also provide you with lifestyle modification tips in order for you to get maximal results in minimal time.

If you're not reaching your goals at the gym now, a customized program might be what you need!





3. Periodic Tweaks to Avoid Plateaus





You might have heard that you get good results in the beginning but after a while things slow down and you hit a 'plateau'.

Indeed this happens at times. However, by providing constant fine tuning of your gym program, we minimize the occurrence of plateaus and ensure you are able to not only obtain results but maintain your desired physique in the long run.



4. Time Tested, Proven, Scientific Methodologies




No one can argue against exercise and diet for building a better body.

No magic diet pills that promises to burn 2000 calories a day, fad diet plans or stupid looking exercise routines. Our programs are based on science and have a great track record and have been proven to work by tens of thousands of individuals around the world.






5. Motivation!


You can have the best nutritional plan and the best workout plan in the world. But alas, you lack the willpower to go through the program. This happens ALL the time.

By keeping yourself accountable to your gym personal trainer and having someone bark at you during the last set of your workout can reap enormous benefits and skyrocket your progress.

If you lack motivation, look no further. Come to us and we'll do the rest.







6. Personalized, 1-on-1 Attention




Our gym personal trainers put word 'personal' back into the phrase 'personal training'.

Many times, we build really strong bonds with our clients and really become your coach, motivator and friend while you embark on a journey to build a better body. We will always be behind you as long as you don't give up.

No one understands body transformations like we do. Try us out to see a difference!

Keen? Try us out - risk free!